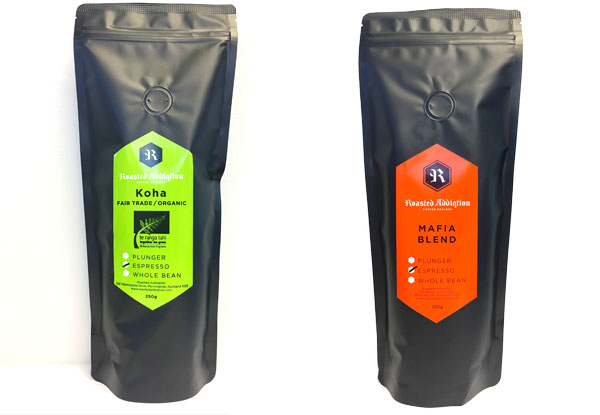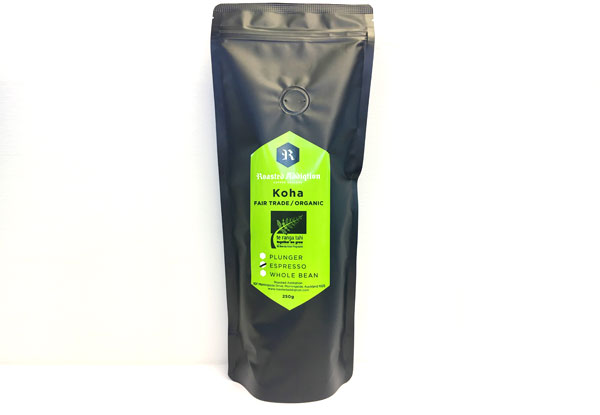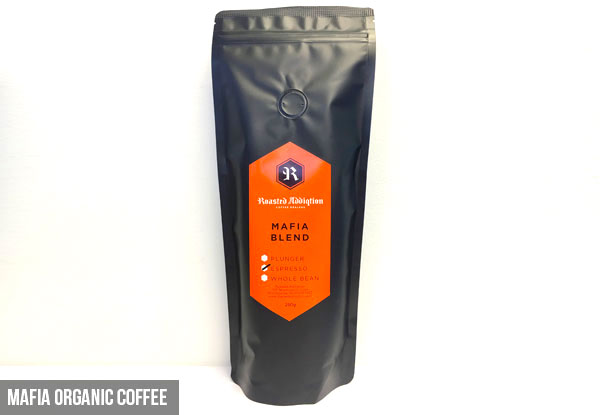 Highlights
Turn your depresso mood into an espresso mood with these coffee beans.
Roasted Addiqtion coffee is organic. 
The guilt free way to enjoy a great cup of coffee in the morning, at home or at work. 
Feed your coffee addiction - stock up and save with flat rate shipping.
Urban and rural delivery available.
Grab a bag of Roasted Addiqtion organic coffee from W&J Distribution Limited.
Choose from fifteen options:
$11 for one bag of Koha fair-trade organic coffee - espresso ground, beans or plunger coffee
$11 for one bag of Mafia organic coffee - espresso ground, beans or plunger coffee
$22 for two bags of Koha fair-trade organic coffee - espresso ground, beans or plunger coffee
$22 for two bags of Mafia organic coffee - espresso ground, beans or plunger coffee
$33 for three bags of Koha fair-trade organic coffee - espresso ground, beans or plunger coffee
$33 for three bags of Mafia organic coffee - espresso ground, beans or plunger coffee
$44 for four bags of Koha fair-trade organic coffee - espresso ground, beans or plunger coffee
$44 for four bags of Mafia organic coffee - espresso ground, beans or plunger coffee
$55 for Koha fair-trade organic coffee - espresso ground, beans or plunger coffee
$55 for five bags of Mafia organic coffee - espresso ground, beans or plunger coffee
$66 for six bags of Koha fair-trade organic coffee - espresso ground, beans or plunger coffee
$66 for six bags of Mafia organic coffee - espresso ground, beans or plunger coffee
$22 for two mixed bags, one bag of Mafia organic coffee - espresso ground, beans or plunger coffee and one bag of Koha fair-trade organic coffee - espresso ground, beans or plunger coffee
$44 for four mixed bags, two bags of Koha fair-trade organic coffee - espresso ground, beans or plunger coffee and two bags of Mafia organic coffee - espresso ground, beans or plunger coffee
$66 for six mixed bags, three bags of Koha fair-trade organic coffee - espresso ground, beans or plunger coffee and three bags of Mafia organic coffee - espresso ground, beans or plunger coffee