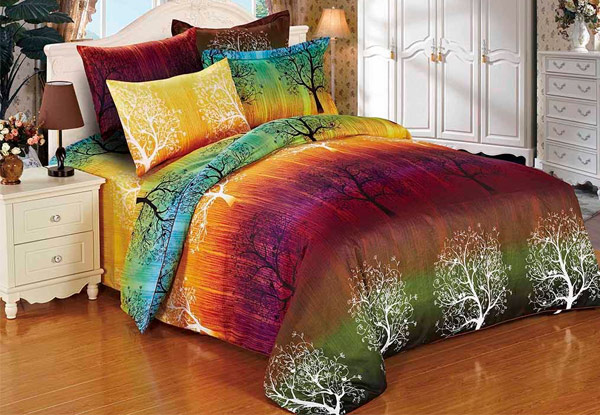 Highlights
If you find yourself always buying the same boring, plain coloured duvet covers then this rainbow tree linen design is for you.
Branch out from your usual choices and stretch your limbs sleeping underneath this rainbow duvet.
Various options for duvet sets, sheet sets, pillowcases and cushion covers to suit you and your bedroom needs.
Products are made from high quality soft polyester. 
Free nationwide delivery.
Grab a rainbow tree duvet set from Fabric Fantastic.
Choose from Eleven Options:
$49 for a single size duvet cover set
$55 for a double size duvet cover set
$59 for a queen size duvet cover set
$69 for a king size duvet cover set
$79 for a super king size duvet cover set
$99 for a queen size sheet set
$109 for a king size sheet set
$129 for a super king size sheet set
$29 for a pair of European pillowcases
$25 for a pair of standard pillowcases
$25 for a pair of cushion covers
Delivered within: 10 days